How To Make CBD Vape Oil?
Step into the fascinating world of CBD and all its benefits in different forms — from making eco-friendly hempcrete to learning how to make CBD vape oil. Today, we'll talk about the latter.
Among the various ways to consume CBD, vaping stands out as one of the most effective methods. Vaping has revolutionized how people take CBD and even how they smoke. Its numerous benefits have captivated both regular CBD users and vaping enthusiasts, offering a convenient blend of the best of both worlds.
Are you curious about CBD vape oil? Stay with us as we unveil its secrets and share an effortless CBD vape oil recipe to experiment with in the comfort of your home. Let's dive in!
What Is CBD Vape Oil?
CBD vape juice is like a secret potion crafted from CBD extract mixed with carrier oils. Let's clear up a misconception: there's no oil in there! So, let's call them CBD vape juices to keep it legit.
If you're used to nicotine-filled e-cigs, you might find CBD e-cig oil intriguing. It's simply vape juice with a twist – instead of nicotine, it's packed with CBD!
It won't take you on a wild, psychoactive trip like THC. CBD is all about those chill vibes! When you vape, you'll experience relaxation and tranquility as stress and anxiety melt away.
How To Make CBD Vape Oil?
Spice up your CBD vape oil by making it yourself – it's fun and saves you money! When you make CBD vape juice, you're the boss of your flavors, cannabinoids, and cloud levels.
Just keep these pointers in mind before vape juice manufacturers:
No nicotine mixing: Don't mix vape liquid with nicotine and CBD isolate. It messes with the CBD's goodness and ruins the experience.
Get the right balance: Match your taste preferences with your propylene glycol and vegetable glycerine levels.
Use CBD isolate: Make sure you have enough PG to dissolve the CBD crystals. Aim for a 70/30 PG to VG ratio – it's the sweet spot.
No microwaving: Never heat your CBD vape oil in a microwave. It'll ruin all the good stuff.
Skip the scents: Avoid adding scented or essential oils to your vape.
Remember, understanding the basics of making CBD vape oil is essential. Just a reminder: vaping regular CBD oil won't work. Now, we will look at the ingredients that will help you make CBD vape juice.
CBD Vape Oil Ingredients
Here are the key ingredients that make this vaping experience so incredible:
Vegetable Glycerine (VG)
Derived from plant material, VG adds a touch of sweetness to the vape juice without making it overly sugary. It creates those thick, mesmerizing clouds of smoke that vapers adore. Plus, VG ensures a smooth inhale, sparing you from harsh throat hits.
Propylene Glycol (PG)
This alcohol-based carrier oil maintains the flavor of your vape oil, giving it a thinner consistency than VG-dominant liquids. Expect a more robust throat hit, which some users find exhilarating. Bonus: PG acts as a preservative, keeping your CBD vaporizer oil fresh for longer.
Medium-chain Triglyceride (MCT) Carrier Oil
Flavorless and odorless, MCT oil is the perfect companion for your own CBD vape juice. Extracting CBD from coconut oil enhances your vaping experience and offers various health benefits, like promoting weight loss, boosting energy, and improving gut health.
Terpenes
Unlock the natural wonders of plants with terpenes, which contribute to the delightful aromas and flavors of CBD vape oils. The better the terpene profile, the more enjoyable your vaping session will be.
Flavoring
Explore over 7,000 mouthwatering flavors for your DIY CBD vape oil. From natural to artificial options, a world of taste is waiting to be explored.
CBD Isolate or Full-Spectrum CBD
The star of the show is CBD, and you have two options to choose from. CBD isolate offers pure cannabidiol with zero THC, perfect for those who want to avoid psychoactive effects. On the other hand, full-spectrum CBD includes all the beneficial properties of the marijuana plant, with THC levels below the legal limit, resulting in a harmonious "entourage effect" when combined with CBD.
We recommend using the CBD isolate recipe for the ultimate CBD vape oil benefits. It's time to elevate your vaping journey and embrace the goodness of CBD! Grab your favorite ingredients and enjoy a sensational vaping experience like never before.
The Recipe
Just remember, CBD isolate has no THC, but if you want a tiny 0.3% THC in your vape juice, go for full-spectrum CBD.
Here's the fantastic CBD vape oil recipe for a 30 ml batch:
You'll Need
15 ml propylene glycol
12 ml vegetable glycerin
3 ml of your favorite flavors and terpenes
500 mg CBD isolate powder
And Some Equipment
A digital scale
An empty vape juice container
A clean syringe
Now Let's Get Started!
For making CBD vape juice, consider the following steps:
Use the syringe to add 15 ml of propylene glycol into the empty vape juice container.
Measure out 500 mg of CBD isolate powder and add it to the container.
Give the mix a gentle shake to blend the CBD powder and PG until you can't see any solid particles.
Add 12 ml of vegetable glycerin with the syringe and shake it again until nicely blended.
Now, it's time to add your awesome terpenes and flavorings. Shake the container once more.
Almost done!
Draw 30 ml of your amazing vape juice into the syringe and fill up your vape. If you have any leftovers, store them in a cool, dark, and dry place.
You've got yourself a fantastic CBD vape oil ready to go. Enjoy the smooth and relaxing experience, knowing you made it yourself!
How To Use CBD Vape Oil?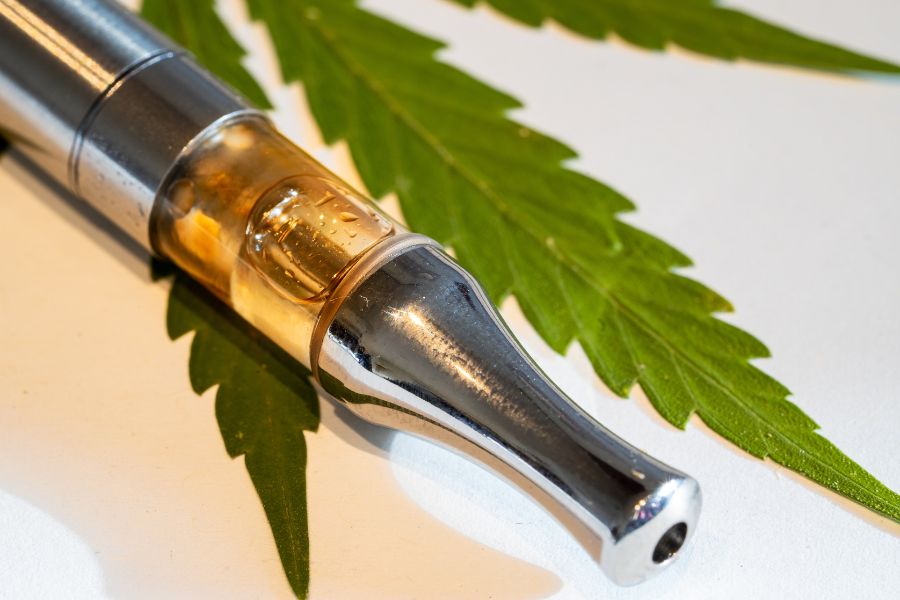 New to vaping? No worries! Let's start with the perfect options: disposables, cartridges, and pods. They're simple, easy to use, and great for beginners.
Disposable CBD vape pens: These are your go-to for starters. Also known as Cig-a-likes, they're compact, lightweight, and won't break the bank. Just puff away on the pre-filled CBD vape juice until it's done, then dispose of it.
CBD oil cartridges: These cylinder-shaped wonders come pre-filled with Cannabidiol e-cig oil, making it super convenient to get your dose of CBD in a vape tank.
Refillable CBD vape pens: These are for you if you're a more experienced vaper. Rechargeable and customizable, you can fill them up with your favorite CBD vape juice. They produce bigger vapor clouds and richer flavors compared to disposables. Though they need some maintenance, like changing the coil and cleaning the tank, they'll save you money in the long run.
Pod mods: Take it up a notch with pod mods! These upgraded versions of Cig-a-likes are perfect for CBD vape liquid use.
So, whether you're a newbie or a seasoned vaper, we have the right devices for CBD vape oil. Get ready to enjoy the world of vaping!
Can You Smoke CBD Oil In A Vape?
Vaping devices are not suitable for CBD oil. Instead, CBD oils and tinctures are meant for other uses like topical applications or adding to edibles, such as drops under the tongue or in your favorite tea.
It's important to know that inhaling oil directly into your lungs can be harmful. When CBD oil is exposed to high temperatures above 320℉, it loses its potency and leaves a nasty taste if you try to vape it.
So, remember, don't attempt to vape CBD oil, just like you wouldn't consume CBD vape liquid orally. CBD vaporizer oil contains CBD content, but it differs from the oil meant for other uses.
Conclusion
CBD vape oil (CBD juice) is all the rage right now, and you can totally join in on the fun! Now that you know how to make CBD vape oil, it's time to unleash your creativity. Dive into crafting your very own e-liquid with CBD goodness and experience its amazing benefits wherever you are.
Want to take it further? You can also try vaping cannabis while meditating for best results. Get ready to feel every puff's quick and delightful impact as a soothing calm washes over you. Embrace the convenience of modern CBD vaporizer devices, and take your flavorful clouds along on all your adventures!